Posted in
Miscelleny
on December 12th, 2009
Long live the sock!
I told you all ages back that when I moved from Oregon to Las Vegas back in 1992, I did so bearing two dufflebags and a box of books. Well, those dufflebags didn't contain any holiday ornaments or decorations.
While I was being a bachelor, I didn't really bother with them beyond getting a little live tree about a foot tall and a set of battery-powered lights. Once the EMC moved in, things had to change and a full set of ornaments and yea, even a stocking was purchased.
That stocking has served it's purpose over the years, but I had been getting less and less impressed by it. It appears as if it were hand-knitted (but it isn't) and it's really just a long tube closed off at the end. It also happens to be just a bit snug when trying to get your hand all the way to the bottom, and the structure of semi-loose yarn tends to grab anything and everything.
Time for something new. Time for something uniquely me. Time for something…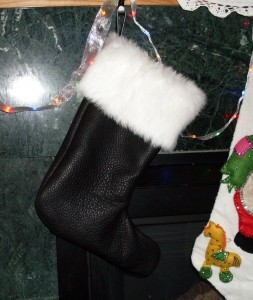 …leather.
And thus was the new stocking born! I'm not sure what kind of leather this is (a friend tells me it's pigskin, but I don't remember ever buying anything non-bovine), but the fur is genuine rabbit from two different pelts. The toe is a bit snug on this one due to a measurement gaff on my part, but I am basically pleased with the design. Tolerant says I should just put a buckle on it and call it a boot. I'm not sure.
A word to the wise when cutting rabbit fur though: don't do it in the house, shit gets everywhere. Buy a good lint roller.
Joyous Yule!