Posted in
Life
on June 3rd, 2021
Oh look, I have survived one more year, so it must indeed be time to post something.
In this case, it's a camping trip, but there's a small twist: of the throttle!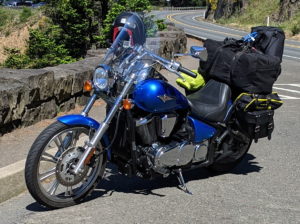 This' year's B-Day vacation idea was to actually get the heck outta town for a couple days and mainly just … be somewhere else for a while. Small caveat in that it is hard to find a cat-sitter that lives up to my wife's expectations, so she allowed me to wander off on my own. Actually, she financed the trip by gifting me a substantial pile of backpacker gear I could take on the bike rather than our 6-person cabin tent that honestly requires two people to set up.
Pictured above, we see the Vulcan stacked with a bunch of stuff. The neon-green thing is a new tent, the black thing with yellow stripes on the other saddlebag is a chair, and on the very back is a cooler backpack (more on that later). The Dufflebag of Holding on the passenger seat holds:
Read the rest of this entry »