Oh look, I have survived one more year, so it must indeed be time to post something.
In this case, it's a camping trip, but there's a small twist: of the throttle!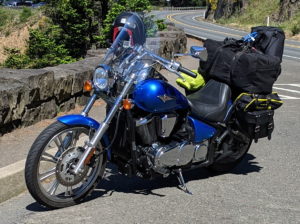 This' year's B-Day vacation idea was to actually get the heck outta town for a couple days and mainly just … be somewhere else for a while. Small caveat in that it is hard to find a cat-sitter that lives up to my wife's expectations, so she allowed me to wander off on my own. Actually, she financed the trip by gifting me a substantial pile of backpacker gear I could take on the bike rather than our 6-person cabin tent that honestly requires two people to set up.
Pictured above, we see the Vulcan stacked with a bunch of stuff. The neon-green thing is a new tent, the black thing with yellow stripes on the other saddlebag is a chair, and on the very back is a cooler backpack (more on that later). The Dufflebag of Holding on the passenger seat holds:
Sleeping bag
Sleeping pad
Fire-starting kit (matches, lighter, starter blocks, etc.)
Paper for the fire
Tarp
LED lantern
Power bank and cables
Mess kits (pans, utensils, cutting board)
Entrenching tool
Collapsing bucket
Collapsing 20L sink
3 days of clothes (including shorts, jeans, thermals, etc)
Toiletries kit
Inflatable pillow (and pillowcase!)
Camp towels
Sunscreen
Clean-up kit
Sneakers
Spare bunjies
And probably some other stuff that I can't remember. This thing is a void with carry-straps.
I stuffed the backpacker stove, fuel, hatchet and stake hammer into the saddlebags, and then used some belt straps to secure the tent and chair to the top of the 'bags.
I did not get paid to say this, but securing this all to the bike was 3 Rok Straps. They do a fantastic job of securing your gear. If you need quality tie-downs for your bike or ATV, I don't think you will find a better strap.
So, once I had all of this tied to the bike, where to take it? The Beach! Specifically, Beachside State Recreation Site in Oregon, just South of Waldport. Nice place that the Wife and I have been to before. Flush toilets, plentiful potable water and showers to get the salt off if you're brave enough to get in the ocean. (The Pacific isn't a warm body of water this far North, and it gets 'oh crap!' deep about 15 feet off shore).
To get there, I took Highway 26 from Hillsboro straight out to where it hits the 101 and wandered South at a leisurely pace. (The pic above was taken at one of the scenic overlooks just South of Canon Beach. I stopped there to put the liner into my vented jacket due to the cold air coming in off the ocean).
If you plan on going farther south than Tillamook, I honestly recommend you don't follow my route but instead take Highway 18 through Newberg, MacMinville and other places. Tillamook is a 20-mile stretch of dairy farms, and the summer stench is horrendous, especially on a bike. Of course, it does take you through Beaver, Oregon, where you will find this quaint little store.
Continuing on past that as fast as I could (of course there was slow traffic ahead of me…) I eventually I hit Lincoln City when both the bike and I were getting hungry, so stopped there for food and fuel. After lunch, it was another happy wander down the highway. I almost stopped in Depoe Bay which looks like a great place to spend an afternoon playing tourist and blowing money on kitsch, but alas, I was on the bike and didn't have any more cargo room to fill with tchotchkes.
Cruising on from Depoe Bay, the 101 weaves inland and back to the sea a couple times, giving you some great views until you hit Newport. This town is big enough to have a department store, so if you forgot anything, be on the lookout for the Fred Meyer on the North end of town. It also is home to the Oregon Coast Aquarium, which is always a good way to spend a few hours. (Say hi to the otters for me, they're good folks.)
Once clear of Newport's traffic, it's a pretty clear run down to Waldport which is just big enough to have a traffic light and the usual mix of tourist shops and chowder houses. There's good winds on this stretch of the coast, so swing through the kite shop if you're of a mind. Blink a couple more times and you're through town, and just about the time you get back up to top gear and settle in, you've reached your destination at Beachside.
Checking in was much simpler than in the past, I told the Ranger my name and he just waved me on through to my site without any sort of tags or signatures. Once there, it was time to see just how everything ties together in the field, and I went so far as to film the setup for reference purposes. If you're not scared of watching a chubby geezer set up his camp, here ya go:
Happily set up, I took a wander 'round the site and got some pics of the ocean.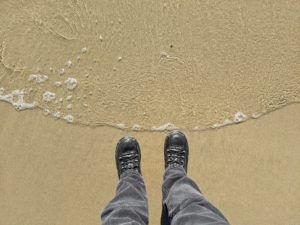 You know what they say though, you're not really camping unless you have a fire. Who am I to argue with that?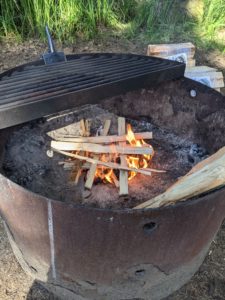 And once you have a fire, it's time to cook something. Mind you, I'm not cooking on that open fire. I'd love to try sometime, but I didn't carry tools and pans sturdy enough for that kind of abuse. My backpacker kit was good enough for the requisite steak, and I suppose I did cook on the fire a little since I re-heated a pre-baked potato wrapped in tin foil by just setting it close to the fire.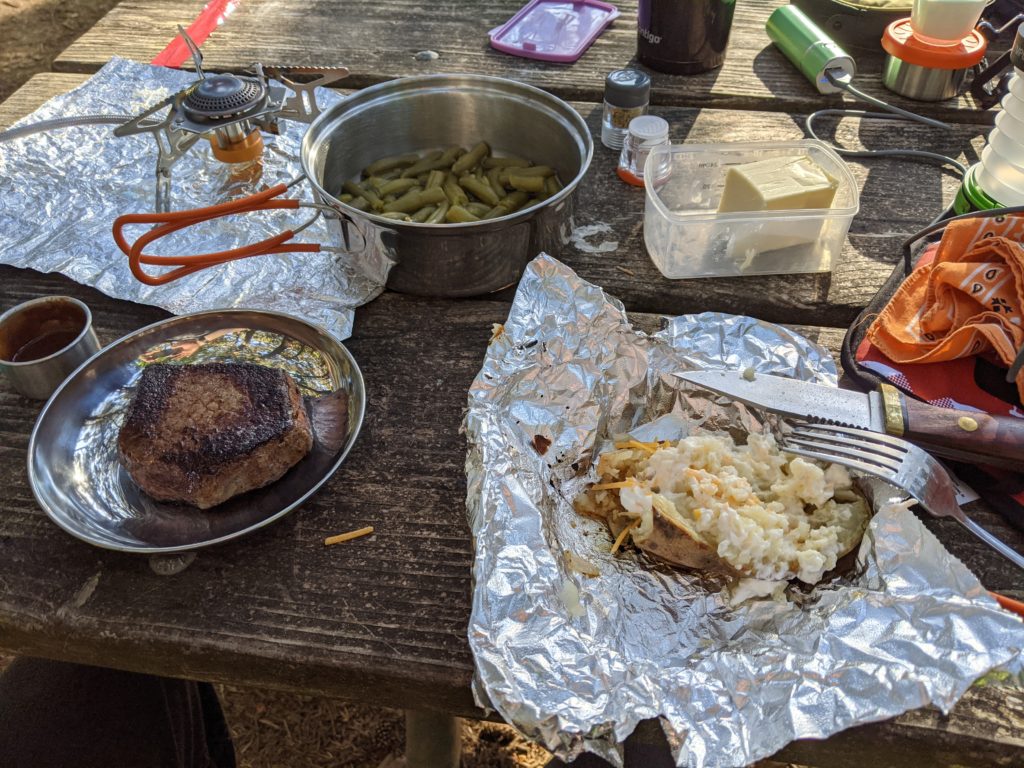 Speaking of food and how I got it to the site, that cooler backpack is a pretty good day-trip cooler. Emphasis on the day in that phrase, because it just doesn't have the insulation to keep things cold for more than about a day and a half, even with the coldest ice-block substitutes I could find. I even started with my food frozen, and by Wednesday morning the chicken had indeed thawed out. So, if I were to to do longer trips with this setup, I should either plan on restaurant meals or daily grocery-and-ice stops.
"What about those backpacker MRE-type meals," you say? One large problem with them: most of them contain greater than 50% of the RDA for sodium. Which is fine if you've been out hiking and working off some calories, but holding down a saddle for several hours doesn't really count for that. Extended use of those can be detrimental to your health if you're not careful. Read your labels, folks.
The first night the tent and the sleeping pad worked fine, but the sleeping bag was pretty wimpy. I tried sleeping in just shorts and a t-shirt, and was cold on a night that bottomed out in the high 40's after wind chill. I would have donned my full thermal underwear set, except that I had forgotten it at home. On top of that, the little inflatable pillow isn't tall enough for someone who sleeps on their side a lot, so I ended up stacking it on top of my jacket which was somewhat awkward. By morning, I was a bit dispirited but pressed on. Breakfast helped, especially being able to cook a proper ham-eggs-and-potatoes type of hash in my little camp kitchen.
The weather on Tuesday had been nice and sunny, but Wednesday dawned cold and dreary, and the mist from the ocean covered the site with a pale grey veil. I cleaned up the camp and tucked everything into the tent, then motored off back up the 101 to Newport's Fred Meyer in search of some warmer clothes. I was able to find another set of thermals, but something like a hoodie eluded me. I returned to the camp after a stop for lunch at a hilltop bistro just South of Waldport.
The remainder of the afternoon carried on with the grey chill, with occasional bouts of sunshine that brought my hopes up merely to dash them again with more mist. I gave serious thought to just packing it in throughout the afternoon, and finally called it sometime around 3:00pm. I'd been cold all day, my phone was just about out of juice, and the only way to charge it back up was to ride the motorcycle, since the power bank I had brought was already drained. Looking at another cold night and a dead entertainment center was just too much to deal with so I packed up and hit the road homeward.
And, honestly, the true point of the trip was to ride the bike, so off we went. I fleetingly considered powering on down the coast and grabbing a motel room, or perhaps even going so far as to visit my brother in Southern Oregon, but in the end going home was the best bet. I stopped again in Lincoln City for food and fuel, then onward we went. I took the more direct route by turning off of the 101 onto Highway 18 just North of L.C., heading up past MacMinnville and waving at the Spruce Goose as I passed the Evergreen Aviation and Space Museum.
The sun came out not long after I turned away from the coast, and I felt much better for being on the road. Things started warming up just past Mac', and I sped onward with the sun on my back and a warm wind in my… well, I'd normally say face here, but I wear a full helmet and have a windscreen on the bike, so I guess we'll settle for sleeves instead. (I was still wearing the vented jacket, after all…)
At any rate, I made it over the final hill in twilight and back to home by full dark, and finally took my helmet off so I could sneeze my damned brains out.
Ye Gods, but I hate allergy season.