Random Thought: A day without sunshine is like...well, night. >
Posted in
Geekery
on March 30th, 2017
The free dice have improved greatly since the first D&D boxed set my stepbrother got back when I was 9.
My stepbrother Josh used to get pissed and throw dice at his brother Sean the DM when he didn't get his way. Those two dice were the only ones to survive.
Mom got me the AD&D Player's Handbook and DM's Guide for my 11th birthday, but I haven't seen those books in years – I loaned them to Sean when he moved to California and of course never heard from him again.
In the 5th grade a buddy and I were building a Character Generator program in BASIC on an Apple ][ – we had most of it down, but got bogged with trying to type in the entire weapons and armor catalog.
We skipped 2nd Edition – none of their 'fixes' to Gary's original (somewhat broken) rules meshed with our own house rules.
I picked up the 3.5 Player's Handbook – mainly because it was the first to come with an official Character Generator program to help crunch all the math – but never ended up playing that version. The Ratboy got some use out of it.
Then there is the mess that was 4th Edition. We had some fun with it, but the whole "Dungeons of Warcraft" vibe got to be too much, and then Wizards tanked it right around the time my last gaming group imploded. I've got about 30 pounds worth of 4th Ed rulebooks on a shelf, if anyone's interested…
Now the wife says she wants to run a game for me, the Daughter Unit and her beau, so we picked up the 5th Edition box set today. We'll see how far we get between this and the online rules before we think about sinking $50 per book to get into the full set, and the basic box set is ideal for starting out a new DM. (And at $20, it's not a huge investment.)
Just remember: dice hurt when thrown. Duck!
Posted in
Life
on March 25th, 2017
The Couch (ok, futon) of many years and at least one major rebuild has finally succumbed to the ravages of time and my notably fat keister. Note the stack of phone books, which I have kept specifically for the purpose of supporting the center, which is prone to sagging.
(Everyone on-deck to disassemble)
Long live the new Couch!
(Wasabi approved. Dig the hex pattern on the throws, that was my contribution.)
Shout-out to Christopher at Hollywood Furniture who helped us with the customizing process of this couch from Stanton Sofas here in Oregon. (Keeping my economy local when I can). Nice folks, very helpful and patient.
Posted in
Life
on January 11th, 2017
With news sites that generally over-hype the bejeezus out of any possible weather event, we were all a wee bit surprised that there was as little screaming about last night's weather here in the Portland Metro as there was.
Here's my parking lot last night…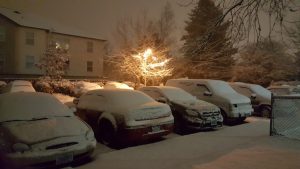 …and this morning: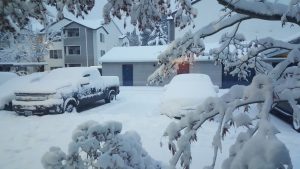 I tromped around a bit first thing, and there's up to 6 inches worth on the ground. One of the guys drove his car all the way to the office only to get high-centered in the office parking lot.
Me? I'm taking a day off. I have zero desire to try and work from home, and 70+ hours of PTO that says I don't have to :)
Posted in
Geekery
,
Life
on January 8th, 2017
A few weeks ago, we stumbled upon Catan Universe, which is at this point an online, faithful representation of the game and it's various expansions. It has multiplayer and as a bonus, it offers AI players so you can still play even when your buddies aren't around.
The AI players all have typical German names, but quite honestly if you have an AI player in a game with live players the AI might as well be named "Victim".
The wife and I both love to play games, but our circle of buddies has shrunk rather alarmingly in the past couple years, especially since we moved to the West side and my former roomie Greyduck opted to get his own place, so this has been a great way to get back into the swing of games.
The problem with playing a lot of two-player games, however, is that there's only ever one winner, and they might not feel to well about that. Not a big deal if it's just your buddy, but when it's your significant other, well, something needed to be done. So, the wife and I have come up with a standard forfeit: the winner has to scoop the litter boxes.
"You pulled Longest Road AND arched wool in one turn?!? Well, have fun scooping, I'm pretty sure Wasabi let off a stinker in there for ya :)"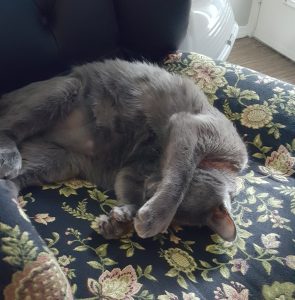 Posted in
Geekery
on January 7th, 2017
HP Gen 9 servers have better fan control now and don't quite sound like Cessnas at takeoff so I had to adjust my customary customization.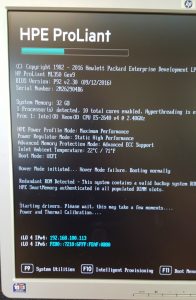 Posted in
Life
,
Proof!
on January 6th, 2017
My Mom and my Old Man divorced when I was fairly young, and after a couple years of wrapping her head around it, Mom started dating again. Years go by, and she eventually settles down with the man who will become my stepfather. He's about 10 years younger than Mom, I figure she just wanted someone easily manageable, rather unlike my Old Man.
My stepfather – I'll just come right out and call him Jackass for the sake of convenience – well, Jackass wasn't the smartest of men in some areas, but he was gifted in others. Game strategy and daily math he was an ace at, but other skills just weren't in his wheelhouse. (Don't ever play Cribbage with him; play Scrabble instead, he can't spell worth a damn.) Some other skills that most modern Americans seem to have absorbed through the osmosis of modern pop culture just never managed to seep into his head though. Read the rest of this entry »
Posted in
Miscelleny
on August 16th, 2016
As I learned the hard way back in high school, if you're driving a '70's era Subaru with a manual transmission, it may behoove you to own a pair of long needle-nosed pliers with a bend in the jaws. A lack of this tool turns replacing a clutch cable from a 30-minute task to a 2-hour task. That's 2 hours of lying on the back of your neck upside-down in the driver's footwell trying to remove and replace a cotter pin by reaching a pair of straight needle-nose pliers through a hole in the actual clutch arm… yeah, buy the pliers.
If you own a 2009, replacing the #1 spark plug requires a wobbly ("universal joint") socket extension due to the placement of a pressure sensor solenoid mounting bracket. At least, I think that's what the device is, I can't find a specific picture. It's a block with a half-dozen or so small-diameter pipes sprouting out of it, and it looks like way to big of a pain to remove. A wobbly adapter is useful and only costs $3, so it's worth the purchase.
The irritating part is that there's nothing in the owner's manual about spark plugs save for one small section that says something along the lines of "this should be done at intervals, but it's difficult, so take it to your dealer". How about you include pertinent information for those of us who actually have the same skills and don't feel like buying the dealer repair manual?
Posted in
Reviews
on August 13th, 2016
Just a couple quick takes on the movies we went to see this weekend. A hugely rare event for us, going to two movies in a weekend is something we never do.
Star Trek: Beyond
This one was on our list from the beginning, and worked it's way higher after a number of reviews remarked favorably on the lack of stupid visual effects that do nothing for the story. (Take a note here, J.J., we really don't like the lens flares.)
Overall, a good flick and worth the price of admission. There's one bit that stood out for both the Wife and I, however as ridiculous in the extreme: at one point, Kirk asks Uhura to open the all-ship address system. A fairly routine request on a starship, you would think – probably happens about twice a day. You'd expect this to be a couple quick taps on one of the square yards' worth of touch-enabled consoles, right? Nope. Uhura has to reach up over her head with both hands to flip open the safety latches, and then flip a pair of toggle switches to turn on the mic.
O_o?
Thankfully, this is the most-egregious bit of bad blocking in the movie. They did manage to leave a bit of an open plotline by not definitively nailing down the fate of the bad guy's right-hand man. (This bothered the Wife more than me, but it's there.)
Suicide Squad
This one was on and off our list a number of times due to 'meh' reviews and the general handling of the DC universe by Warner Bros. (We still have not seen, nor desire to see, 'Batman v. Superman'). The final deciding factor for us was Kevin Smith's review of the movie. Die-hard comic book guy liked it? OK, we'll watch.
It ended up being better than I thought it would be. I was disappointed with a couple things. It stood out badly that Rick Flag had the scruffy beard and they had him portray the character with a kind of Southern redneck personality that just didn't work for me. (At one point I swear the guy had a pinch of chewing tobacco in his mouth…) I think Adam Baldwin did a better job in the Justice League animated series.
To the guy suing Warner Bros. for not including enough Joker? I side with the editors on this one, they cut whatever they cut for good reasons. This was not a Joker movie, this was something else. Joker will have more of a presence in that upcoming Harley movie that's hot in the rumor mill now.
So, if you're of a mind, either movie will sit well with you I believe. Enjoy!
Posted in
Politics
on June 13th, 2016
For all of those who say they have no words, I have a few.
People have died because their country has failed them. The signs were there, but they went unheeded. Many people in the shooter's life (I won't name him here, he gave up his name to commit atrocity, he is merely the shooter…) many people have said he was angry, he would go off on angry, homophobic rants and there were mentions of his violence. A co-worker went to their boss and said 'hey, this guy's got problems', but his words were unheard. Family saw his anger and heard his words, yet did not think they were enough reason to force him to seek help or counsel.
Congress has failed to see wisdom, lobbyists have failed to see anything but their paychecks, and people have died. Friends, neighbors, families have all died because this shithead shooter and others like him were legally able to buy assault weapons. Not hunting rifles, not target guns, assault weapons.
Me? I like guns. Guns are good for hunting, for target practice, for just shootin' tin cans. They're good for self- and home-defense. I believe people that enjoy these activities should be able to pursue them.
But I also believe that there is no righteous purpose for owning something like an AR-15, or any of the similar weapons out there. These are not hunting rifles, they are not target rifles, they are only good for one thing, and that is terrorizing the humans around you. (Not "your fellow humans", because if you're terrorizing them, you have nothing in common with them. You're just a fucking asshole at that point, not a human.)
Look, I've read my history and I understand what was going on when the boys with the pens sat down and argued around a table for weeks penning the Constitution and the Amendments. At that time, and for the years following, the Second Amendment made a great deal of sense – take the arms from the people, and they become subjects, just like they were under the English kings.  Those days are looooooong past though. An armed militia to keep the government yoke in check doesn't work anymore, because the United States military has more guns than whatever God you believe in, our police have militarized themselves, and there's no fucking way the populace is ever going to mount a successful armed rebellion against the government.
Not. A. Chance. In. Hell. The South ain't gonna rise again, dickhead, just give it up.
So. What do we do now?
We get off our asses, pull our thumbs out, and make some changes.
You, and you, and yes, you over there in the corner – go outside, knock on your neighbor's doors, and talk to them. Get to know them. Try to understand them. I know meeting people is scary, but these are the people that will be closest to you when the zombie apocalypse finally lands, so get to know your team. Find out if they need help, or counsel, or just a damn shoulder to cry on over a beer.
Congress: it's time to stop taking money from the gun lobbyists that are allowing the people around you to arm themselves with assault weapons and make a stand for sanity. Ban assault weapons. Require sane background checks for all gun purchases. All of them. Gifts too – nobody gets a gun without a check. Come up with something similarly sane for the purchase of ammunition, because really, you don't need 4000 rounds of 9mm. For those that want to carry a sidearm in public, first you have to pass a psych evaluation, and there needs to be a yearly checkup. This includes police, FBI, DHS, and all the other T.L.A.'s out there.
Manufacturers: First, stop selling assault weapons to civilians. Then build a safe gun. This is the 21st fucking century here, why isn't there a smart gun yet? The idea is out there, the tech was put forth at one time, and some paranoid assholes shot it down. Trot that sucker on back out here, and let's make it work. Embeddable RFID chips are easy and safe to use, and can't be taken away from someone easily or lost. Use this as the basis for your system, and then make it rock-solid. Put a camera in every gun as well so you take a picture every time you fire – instant evidence to support your case for self-defense or defense of others.
Most importantly, and this applies to everyone on this rock: anything or anyone that tries to convince you that killing people that aren't trying to kill you first is wrong. And I mean actively, fundamentally, 100%, no-two-ways-about-it fucking WRONG.
Stop and think.
Posted in
Life
on June 1st, 2016
So you spend weeks and weeks trying to be productive, constantly worrying about how much work you're producing and complaining about how you don't get any time for hobbies.
Finally, you get a break in the schedule and plan a vacation, thinking about how many hobby projects you'll be able to work on.
Then the vacation time rolls around, and you spend hardly any time at all on the things you had planned, and instead devote most of that time to basically fucking off.
In 6 days away from work, I have spent about 3 hours on hobby projects. Am I a slacking slacker, or was the time really better spent just goofing on the web and playing video games?
Hard to tell.