It appears that my luck was in.
For those of you that did not know her, I present to you The Little Black Beastie that has been my near-constant companion for the past 6+ years: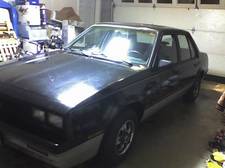 While she has been a good car, it is time to retire The Beastie and move on to something a little more current. I introduce to you my new 2004 Kia Optima LX:
She comes complete with power windows & locks, disc brakes at all wheels, CD player, cruise control, A/C, a 2.4 liter 4-cylinder motor and 5-speed manual transmission. Oh, and most important of all:
CUPHOLDERS!! Yay!!!
And get this: apparently there have been far too many movies and TV shows where people get locked in the trunk. They now have glow-in-the-dark handles on the inside of the trunk lid to open it from inside. I guess the mobsters will have to keep up the maintenance on their old cars now.
I know I had originally specified an automatic trans, but they didn't have one on a nice car in my price range. And this is by far the nicest car I have ever owned. Only two years old and only 22,000 miles from the previous owner (who traded up).
The folks down at Bob Lanphere's Beaverton Kia made this a very simple and low-stress event. They listened to me when I told them my requirements over the phone, had an appropriate list of vehicles for me to choose from, and didn't waste my time with bullshit. You need a car, go down there and ask for Adam.
So what did it cost me? less than I would have thought. Actual price of the car was $10,995 and I added the G.A.P. policy to bring that up a bit. The GAP policy is a kind of insurance that protects me while the car is worth less than what I owe on it. Interest rates being what they are, the first half of a loan's life is usually more than the MSRP of the car – which means you could end up having to keep making payments if the car gets totaled. It works out to $5 a month, so I thought it would be worth it.
Okay, so that's what the price was. With interest, the car will cost me close to $17,000 if I just make the payments as listed for the next 72 months. This works out to 18% or so. Yes, it's high – my credit sucks. There is no penalty, however, for paying it off early or refinancing, and extra payments go straight toward the capital amount. So, come tax time I can drop a heavy payment of $1,000 or so on it and cut the interest off the back half of the loan. Do this every year and I can save myself some serious dough.
The car is as yet un-named, though several ideas have been bantered back-and-forth with Tolerant. We both thought of "Jeeves", mainly due to this being such a nice car and it kind-of reminds me of a Jaguar. Cars and ships should have feminine names, however, so this won't do. Tolerant's idea of "Kitty" just didn't seem right, and when she said "Pussygalore" I just about fell over.
She did have one idea that is growing on me: "Holly", or more completely "the H.S. Holly", with 'H.S.' standing for Highway Ship – which is kinda fitting, considering this is the second-largest car I have ever owned. (It's hard to tell from the photos, but the new car is longer and wider than the Beastie – though not anywhere near as big as the old Plymouth was.)
Anyway, I'm starting to think that "the H.S. Golightly", (known as "Holly" to her friends) isn't such a bad idea. It's early days yet though, and the car hasn't had a chance to assert a personality.