Posted in
Life
on April 26th, 2019
Since one of the functions of a blog is to serve as a bit of a diary, I will jot down the following merely to place it in my personal narrative timeline if nothing else.
We moved last weekend. Just a couple miles up the road to Greyduck & Vyx's complex, but in the process we crossed over the main East-West corridor of the area, which means one less traffic obstacle on the way to work. We also have a larger apartment now, on the second floor – which has already done wonders for foot comfort since we don't have a concrete subfloor any longer. Lastly, we have a garage now, with enough room for the Outback and a small workbench plus storage area. That will make dying jobs simpler.
As part of moving, we also decided to treat ourselves a bit, and for the first time in nearly a dozen years we have an actual adult-style bed – with a headboard! Amazing! As an extra-special treat, I opted to replace the TV for a number of eminently logical reasons, (one of which is "cuz I wanna!" Really, the other one was too small for the area now, and very picky about viewing angles) and that will make for happier viewing. The new sound bar to go with it shows much promise.
The most specialest thing to happen this month, however, may be the simplest of all: I made the last and final payment to my student loans.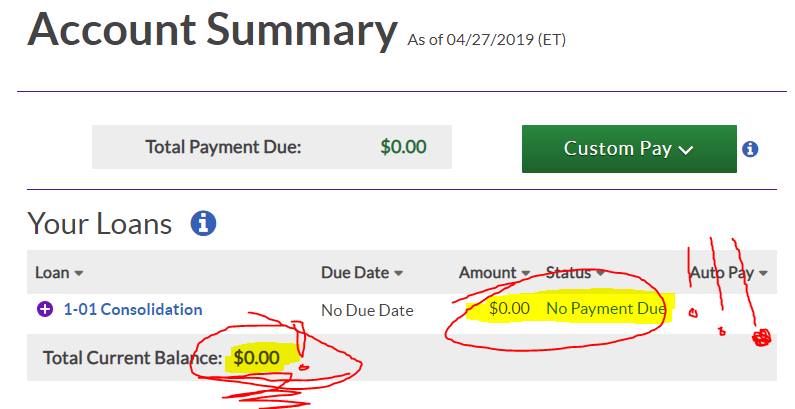 Twenty-seven freaking YEARS to pay that shit off. Those of you out there in similar conditions, my advice is always pay extra, even if it's only a buck. Every penny over minimum you pay is a penny they can't charge interest on, and it adds up.
On the downside of the newsfeed, the doctors tell me I have mildly high blood pressure, and the damage to my pancreas in my youth has finally caught up to a diagnosis of low-end diabetes. Both appear to be treatable with simple pills and some better dietary and exercise habits, so that's good news.
And that catches us all up. G'night!